Welcome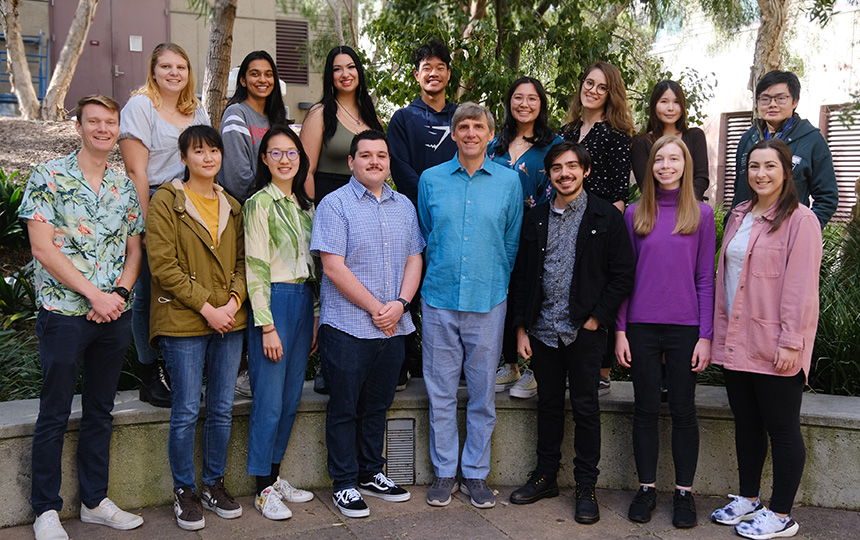 Welcome to the Aerosol Photochemistry Group. We are located on the beautiful campus of the University of California, Irvine in the Department of Chemistry. We investigate chemical composition, photochemistry, and physical properties of organic aerosols using aerosol chamber techniques, mass spectrometry, and other state-of-the-art techniques. Please refer to our research section for more details (note that this section is less up to date than the publication section).
Announcements

Lucia Liu officially re-joins the group earning the title of the most eager group member of all time (after having previously joined us as an undergraduate student in September 2021, as a researcher in January 2022, and as a graduate student in September 2022). Welcome quadrupled Lucia!
Luis Ruiz Armenta becomes a new graduate student member of the group following the customary group rotations. Luis graduated from the California State University Long Beach in spring of 2022, and joined the UCI atmospheric chemistry program in the fall of 2022. Welcome Luis!
Two eager freshman students join the group: Eleanor Miko and Helen Qin. Both met our group members while they excelled in their general chemistry courses. Welcome Eleanor and Helen!
Graduate Research: If you are interested in conducting graduate research in our group please contact Prof. Nizkorodov. We typically try to have 1-2 new graduate students join our group each year. Please refer to the publication section for examples of recent papers by the group members. The group's graduate students have been recognized by multiple awards and fellowships from the department and from the outside sources. Former group members have been successful in securing employment in policy, education, industrial research and academic research sectors. Go Aerosolates!
Undergraduate Research: Undergraduate students are welcome to do their undergraduate research projects in Aerosol Photochemistry Group on a space available basis. We typically have 3-5 students at any given time (depending on whether a graduate student mentor is available). If you are interested in such an opportunity please review the requirements and then contact Prof. Nizkorodov in advance. The usual mechanism is enrollment in either Chem 180, H180, or 199; summer internships may be possible as well. We cannot take high school interns.